Tuesday, October 26, 2010
Tucked away in the new food cart pod on 50th and Division, you will find Off The Griddle. OTG is a solar-powered cart specializing in vegan and vegetarian burgers made with locally-grown produce.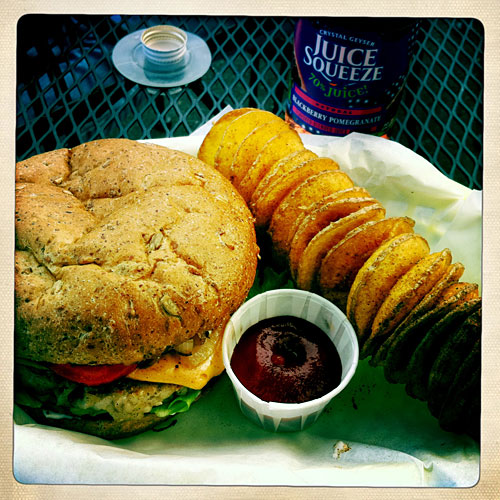 Always excited to find new vegan burger options, I was anxious to try out this cart. I have had both the "bacon cheese" burger and the OTG burger. All their burgers are served on Dave's Killer Bread usually with lettuce, tomato and grilled onions. I believe the OTG burger also had avocado and the bacon cheese burger included homemade tempeh bacon and Daiya cheese.
To accompany the burgers, you can order a Veggie Volt. The Volt is a spiral-sliced potato that is fried and served on a stick. It comes out to be a cross between a french fry and a potato chip texture. It is 100% delicious and a perfect complement to the burgers.
According to their Urban Spoon entry, their specials and new patty recipes are rotated out each month. So head on down there and see what they have in store for you today.
Off The Griddle 4926 SE Division St #7 A La Carts Food Pavilion Portland, Oregon 97206